Watch The Weekly Live Programme Here
Watch the latest Programme from Business Connections Live
Support Business Connections Live TV, Subscribe, Sign-Up.
Recent Live Programmes from Business Connections Live TV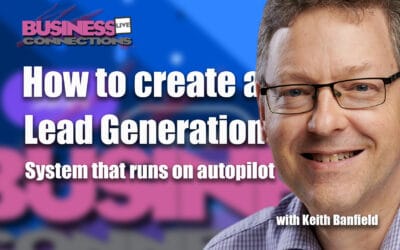 How to create a lead generation system That runs on autopilot On this show we talk about how to get more coaching leads and convert them into clients Marketing expert, professional speaker and business owner Keith Banfield joins us from Brisbane  Australia, where he...
read more
Would you Like over 200 Hours of great business advice
FREE CONSULTATION
Do you have something to say? Those years of experience, the lessons you have learnt, position you as someone to listen to. Don't they?
Regardless of whether you're an individual or a major brand, we all collectively have a point of view that will inspire others to reflect on how and why they do things.
If your organisation is growing, talk to your PR team to see how positioning you as a thought leader could benefit business growth and profits. With an effective social media campaign, you can change the perception of who and what you are. But where do you get the content?
To become an Industry expert you need to create an online presence using your website and social media. Position yourself to be the one in demand for comment and interviews on national media like the BBC and SKY News.
We're experts in helping people just like you to raise their online persona with live streaming, podcasting, production and video.
If you would like to discuss your ideas then book a FREE CONSULTATION
Sponsor The Show
Are you looking for a way to raise your businesses profile to put in front of Entrepreneurs and SME's? Are you an organisation that has products and services that would benefit UK business?
Sponsorship of Business Connections Live's programme is the ideal vehicle for this kind of Brand Promotion.
We will brand our Live programme with sponsorship tags and voiced advertorial to promote your business or organisation.
Your Brand TV
Still sending out conventional newsletters to customers? Are you still bombarding your staff with paper based content hoping they will read it? Do you just want a more engaging way to talk to your customers and employees?
Your Brand TV is a completely branded television show that can be streamed live or delivered on demand to your niche audience. Capitalise on the online media gold rush that is using video to effectively deliver news information and education to key personnel and clients.