You could
DOUBLE YOUR SALES
with a Customer Grabbing Video for your business
(even if you're camera shy!)
Get A Super Slick, Professional Business Showcase Video
To Help You Get More Enquiries, Customers And Clients…
…All For Just

£1500

£750!
Telephone 01784 256777
Each Business Video Showcase Recording day has a limited number of 8 places
Next Business Showcase date
NEW DATE- Online Zoom Training 21st July 2021 – Studio Filming Days 28th and 29th July 2021

SOLD OUT – Online Zoom Training 19th May 2021 – Studio Filming Day 27th May 2021
The Business Showcase Video…
Get A Super Slick, Professional Video Showcasing Your Business To Help You Get More Enquiries, Customers And Clients…
Promote your brand and expertise with powerful marketing video content. This video tells your story, positions you as an expert and sells your products and services.
You will be interviewed in our multi-camera studio in Shepperton, Middlesex, by radio and business TV host Steve Hyland.
We provide you with the the professional filming resources to create a real impact, so you can explain the key services you provide, how they benefit your customers and a powerful call to action including contact details.
Your package includes 5-minute interview video and shorter key message, together with a call to action video. Up to 2 hours of studio and equipment time. This is a simple four step process to allow business owners to tell their story.
This comprehensive package includes: 1. Training Call via Zoom explaining how to prepare and what to say. 2. How to create stunning B-Roll video using your smartphone. 3. Your live studio interview day. 4. Professionally edited including animated brand logo and music.  The complete package!
Reserve your place NOW!  £1500.00  Limited Time £750.00 Call 01784 256777
Jeremy Stock Run Print Run
The Business Showcase Video… Here's How You  Do It
1. Training and Preparation
To help you prepare you will join us on a live Zoom training session. We will discuss your Sales Proposition, how you help your customers and your Call To Action.
2. Shooting Additional B-Roll
Your customers love seeing how you do what you do. We will show you what you need to film on location and how to do it with your smartphone to make your final video look fantastic.
3. Studio Filming Session
You have the choice to be interviewed or to deliver straight down the lens. We even have Autocue so you don't have to worry about remembering your lines.
4. The Magic of the Edit
We will then craft your video from the b-roll you have supplied and the recordings in the studio, delivering the finished results electronically to your inbox via email. 
1500Availability
Contact the studio for availability and booking. We will be running production sessions each month so book now! Places are limited to each session.
We look forward to seeing you soon.
The Business Connections Live Team.
01784 256777
PS: Don't forget to watch the weekly Live show. Business Connections Live is the leading UK online Live Streaming Business Channel, Watch the live show every Monday or catch up when it's convenient for you. If you need to increase sales, need inspiration with your marketing, creating a strategy for social media, trying to raise funding or just looking to grow your business. No matter how big or small your business is, our business television experts will give you clear useful advice to help your business grow. Watch the live show every Monday.
All prices quoted plus VAT
Reserve your place NOW!  £1500.00  Limited Time £750.00 Call 01784 256777
Order Your Own Business Showcase Video…
Here's What's Included (Spoiler Alert: everything is!) 
Your Business Showcase Video Includes:
1 Hour Zoom Video planning meeting.


Learn from other business owners during your online workshop

Instructions on techniques to shoot b-roll footage with your own smartphone

Talk to us if you would like us to shoot your b-roll for you

Your interview or Piece to Camera in our multi camera studio

An opening sting of your business logo

Expertly crafted edit of all your material

The lifetime rights to use the video for whatever you want

EVERYTHING you could ever want…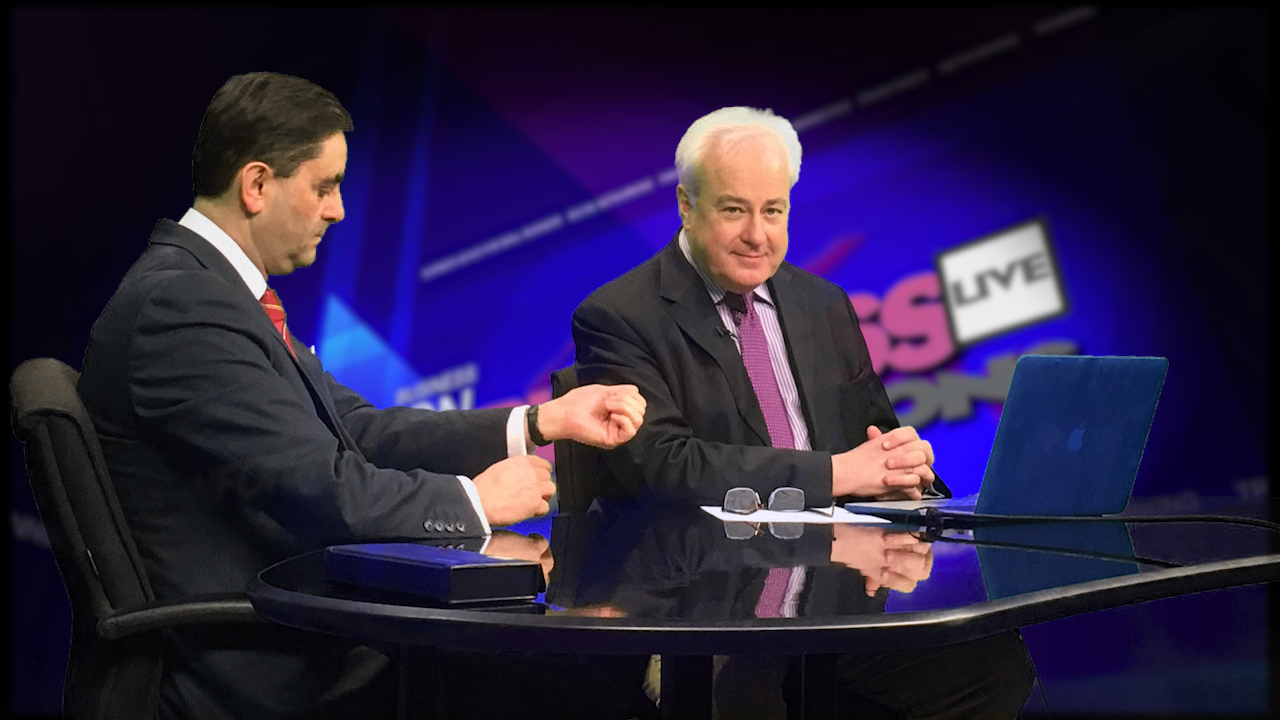 Places left from a maximum of 8
Your choice of Animated Style for your Logo
You have a choice on how your Logo is animated. You can change background colors, use landscape, square, or round logos.
This is all about your image and profile – and if you feel the graphics are not right then let's have a chat and see what we can do!